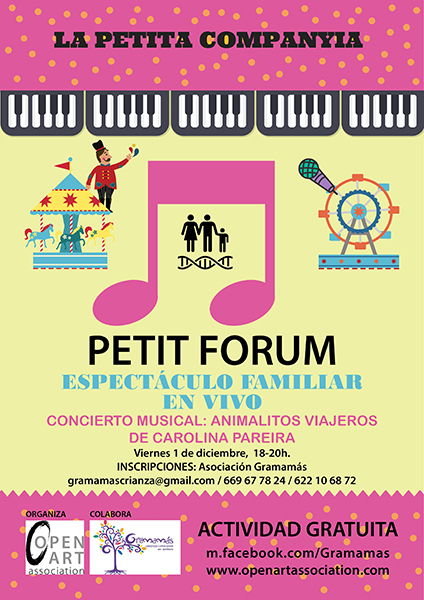 Petita Companya focuses on artistic education for children. The artistic education workshops are for infants aged 0 to 3 and primary school aged children. Petita Companya workshops are imparted, Petit Forum performances are presented.
Petita Companya are artistic education workshops in diverse disciplines such as music, cinema, plastic arts under the denomination petita: Petit Music, Petit Cinema, Petit Art. Their objective is to awaken creativity and artistic initiation for the little ones accompanied by a family member.
Petit Forum is a space for live family-friendly performances: theatre, cinema, music, dance and circus performance.
Workshops and Performances Held
Petita música started with parenting and music; the objective was early musical stimulation. Petita música was designed for the littlest ones, awakening in them a sense of rhythm, accompanied by an adult. The workshop was imparted on November 10th, 2017 in Centre Civic Riu, Santa Coloma de Gramenet in collaboration with Gramamás.
The first Petit Forum was a didactic concert titled "Animalitos Viajeros" (Travelling little animals) by Carolina Pereira. The concert was held on Friday December 1st, 18:30 at Mas Fonollar, Santa Coloma de Gramenet.
Participation by Carolina Pereira (strings and voice) and Mecha Leavy (wind and voice).
The second Petit Forum for the same concert Animalitos Viajeros included participation by: Carolina Pereira and Oriol Fontclara within the framework of the project Fusión Gramenet 2018.
Petita Companya and Petit Forum workshops have also been carried out for schools such as Escola Pere Vila.
Participations in the Club de Cinema Gramenet project were carried out with a Petit Cinema showing of the film from Hombre Rama.
Direction of the Petita Companya project: Carolina Rivas.
Organized by: Open Art.
In collaboration with: Gramamas, Mas Fonollar, Centre Cívic Riu and Can Peixauet Library.
Capacity reached:207 participants